Interview Biff BYFORD / SAXON
Tuesday 25th November 2014
Transbordeur- Lyon

This icon indicates a video
Biff, welcome on rock-interviews.com. Let's go back in time for a few minutes and please tell me what this picture reminds you?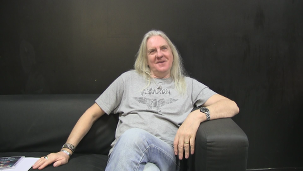 Oh, a coal mine. When I was a lad, a young boy, but it wasn't as bad as that (laughing). It is a crazy place, it is dark and frightening.
When you were a teenager what kind of music did you enjoy?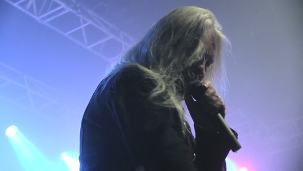 Rock and pop music like the Kinks, stuff like that, the early Rolling Stones. I am more into the Rolling Stones than the Beatles, because they are more heavier and rebel in their style of music.
Biff What are these letters for?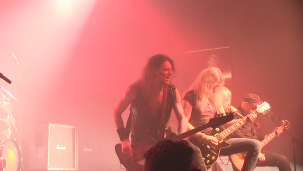 I don't know...Let's see...Oh yeah, Coast!
AM : What is it?
It was the name of my band with Paul before Saxon.
AM : You also had another band.
Yes, Son of a Bitch, that came after Coast. The first album we released had a few Coast songs on it, so the two things are connected.
You are one of the founding members of the metal band Saxon, could you please introduce it, using only 3 words?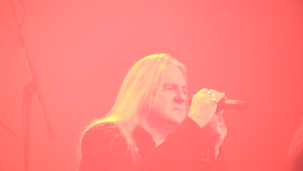 Rock, Heavy, Metal. That's all we are! We cover the three of them.
Who has created this logo?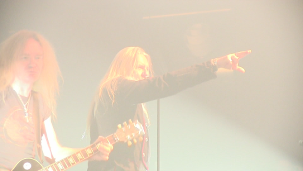 It was created by some friends of ours, from an Art College in Yorkshire in 1979. It is very good. Our first album cover, was a warrior, they did this logo and we have kept it ever since. It's a great piece of artwork.
What are the symbols of your band?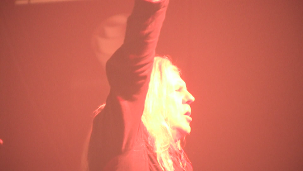 Apart from the logo, we have many symbols. The eagle which is one of our symbols from the Wheels of Steel album. We played a lot of festivals with the eagle with us. Generally it is the S or the eagle that symbolizes Saxon.
AM : What about swords, knights, snakes, castles?
I think our songs are very anthemic. That's one of the things that makes us a bit unique. Our style of music does cross different genres. One minute we can be singing about Frozen Rainbow, the next minutes we will sing about the President Kennedy's assassination, and then we will sing about Denim and Leather and Heavy Metal Thunder, so we do cross a large genre of styles.
Who do you think you have influenced?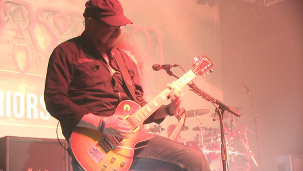 It is hard to tell unless they tell us. A lot of american bands were influenced by us.
Metallica
and
Megadeth
were influenced by tracks like Motorcycle Man, Heavy Metal Thunder.
Mötley Crüe
were influenced by Power and the Glory style songs. We have probably influenced quite a lot of bands in America in the eighties and also a few bands later on in Europe like Bullet and people like that. We are surprised in how many bands are actually fans and followers of Saxon, you know like
Skid Row
who are huge fans of Saxon. They grew up and were listening to us, they learnt to play and put a band together. I talked to
Sebastian Bach
, a couple months ago, he is the same, he said to me, we used to listen to your songs all the time! Obviously we are not aware of it until they tell you.
Biff your job is to work as a musician in the music business, could you please explain to us how do you work with your bandmates and who are the other people that collaborate with Saxon?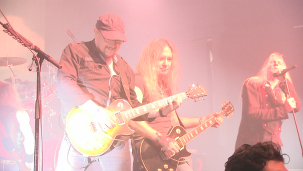 It depends, we don't really collaborate much with other people in songwriting, we tend to keep it to ourselves. Sometimes there are producers that maybe do some arranging things with me, but generally we keep the songwriting to ourselves. The collaboration on writing songs is mostly all Saxon. Producing an album, usually I produce it or co-produce it. I think the next one will be produced by Andy Sneap, we will see how it goes. We are very loyal to people, we tend to use the same people all the time, which is not always a good thing because sometimes it's good to change. We have a crew, true people with us. I think touring is more like a family, the making of an album too...
AM : Who is this guy?
Harvey Goldsmith. We had a fly-on-the-wall, a serie in England with him. It was good fun. We did a really risky thing, it's very dangerous to do intrusive films, but it was good and it goes really well in the UK. You can see it on Youtube all over the world now.
AM : And what about Steve Strange?
The incredible Steve. He is our agent. He is a great guy and a good friend. He is a huge fan of the eighties music and he loves Saxon. He has been a big instigator in our profile rise in the recent years. He is a very powerful man, one of the biggest agent in the world.
What were the worst 5 minutes of your life?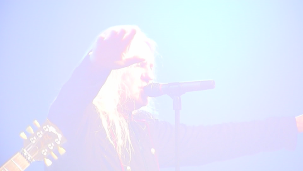 When my mother died was probably the worst time of my life.
AM : And in the business life?
It was around the Destiny album. The band was like collapsing. The chemistry was not good for the different people in the band, there was a lot of bad feelings around, so it was the worst time of the band.
AM : And the most fantastic, amazing one?
I think selling a million records with our album Wheels of Steel. It went ballistic. It's a great feeling for a young band. When you have been working for a few years to get a record deal. Then you get it, the first album comes out, and it's like ok, then you have another chance, one more chance and then it went in the charts everywhere across Europe. It's a great feeling of satisfaction!
You did Metal cruises.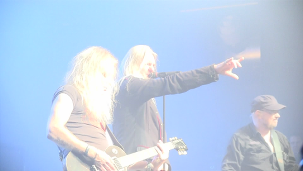 Yes. We did three of them.
70000 Tons of Metal
cruise which went from Miami to Mexico. Then we did another one called
Monsters of Rock
, we did Nassau, Bahamas. The first one was more a Heavy Metal cruise and the second one was a party cruise with a lot of bands. We were the only European bands on there with
Uli Jon Roth
. It was good fun. Then we did a cruise in Sweden that was absolutely crazy, a drunken one!
Apart from your albums, T-shirts, mugs, What do fans have to absolutely buy from Saxon in order to know the band by heart?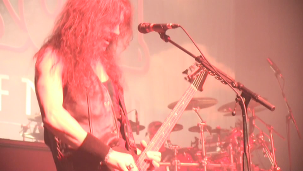 They could buy two or three things. First, the Heavy Metal Thunder, The Movie, a documentary we did. They can also buy my book, Never Surrender (Or Nearly Good Looking) which is on Saxon history. And I suppose any of our albums.
AM : What about 25 Years of Wacken?
Yes, we are on it. It's a very good DVD. We are good friends of Wacken, the guy that promoted it, is our manager, Thomas Jensen, so I am very close and related with Wacken.
AM : It's a huge festival.
It is now. There was just one little stage in the field when we first played it in 1992 with a thousand people.
Let's talk now about this.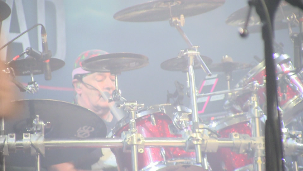 Yeah the new DVD. Warriors of The Road, Saxon Chronicles Part II.
AM : What is it about?
It is principally about us taking the Eagle to Wales in the UK to play a festival on top of a mountain and we thought it was a good idea to film it. There is all sort of bonus on there. Some Wacken performance, there is Graspop, Download which is quite rare because we don't film festivals when we are down the bill. There is also Rock'n'Roll Gypsies concert. I think it's a very good package. The one that people buy is in a book, it's not like that.
AM : Yes, this is the press one.
Is it yours?
AM : Yes it is.
OK, I am having this now! (smiling).
AM : Your fans can find it in 4 formats, digipack special format CD, jewel case, blue-ray amaray, digital download.
Yes, four ones, cheap, not so cheap, quite expensive and very expensive.
Do you have new projects in mind for the future?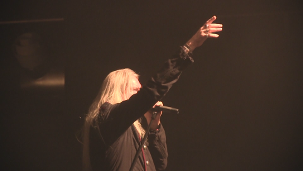 Yes, we are writing songs to record a new album in January, February, March, it shoud be finished, and then we will go on tour with this 35th Anniversary Tour, to America, South America, maybe Japan, so we will be busy, and we will do festivals in the summer too.
AM : You have a good fan base in Japan.
Yes, very good in Japan, it's not like hundreds of thousands, we can do two thousand people in each city, it's pretty good.
You are on tour in France at the moment, how was the Paris gig at the Bataclan last night?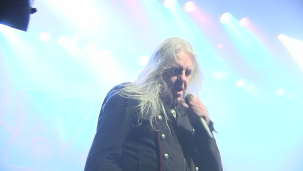 Very good. Paris was sold out last night. It is a nice venue. When we played there last time we did quite well as well. Tonight in Lyon, it's very surprising, a very good ticket sales. The tickets sales across France are really good. I think we only played one weekend so the gigs are on monday, tuesday, thursday, so it's very good.
AM : Today you are in Lyon at the Transbordeur venue, is the setlist ready for tonight?
Yes, we are ready for tonight and every night, I mean we play hot, long shows.
AM : Could you please introduce your bandmates?
We have our original guitarist
Paul Quinn
and also
Doug Scarratt
on guitar who's been in the band since 1995. The crazy
Nibbs Carter
on bass, who's been in the band since 1988 and
Nigel Glockler
, who's been in the band since 1981, off and on, he is more or less original, his first album was The Eagle Has Landed, part one.
AM : Biff thank you very much for your time and have a great show. We wish you that like thunder the crowd will begin to roar!
Biff (laughing) :Yeah, and the bands played on!