Interview TOMMY CASTRO
Saturday 20th September 2014
Grosses Guitares Festival
Remerciements à l'Hotel Le Longchamp / Craponne.

This icon indicates a video
We are happy to welcome you on rock-interviews.com Tommy.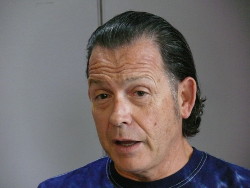 Thank you for having me.
AM : Where are you from?
San Jose, California.
AM : Could you please show us where it is exactly on this map?
It is somewhere around the San Francisco Bay area.
AM : A very beautiful place.
Yes, it is, but France is beautiful as well. We are enjoying it, I always do.
You picked up a guitar at ten years old.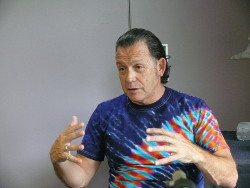 Yes.
AM : Why did you choose to play the guitar and not another instrument?
Actually, to be honest, I wanted to play the drums. My older brother was a guitar player and he said, no, you are not going to play the drums but the guitar. I said okay I will give it a try. He taught me a few things and that was the best decision I made, I think.
AM : Here is a photo.
It is me and my guitar.
AM : Yes.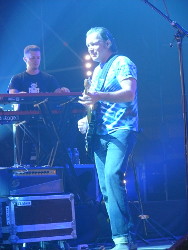 But I was not ten years old in this picture!
AM : I didn't find a picture of you at ten years old. Do you have one, maybe on your website tommycastro.com?
There might be something when I was younger, maybe, but I don't know about a ten-year old though.
AM : What about this picture Tommy?
Oh, me and my bike? No, I don't ride motorcycles. I was just helping to promote something for a friend at a motorcycles shop, and he asked me to get on this one. I like motorcycles, they are fun, but I don't ride.
AM : It is dangerous.
Yes, too dangerous. I am lucky to be alive as it is!
What can you tell us about this date?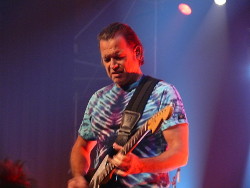 1991, it could be, I don't know.
AM : The beginning of a very good band.
Oh yeah, the beginning of my band, that sounds right. We started it about that time. I was playing with another band, that is when I met Randy, my bass player, a band called the Dynatones and I left it to start my own band and it would be about 1991. So many things happened in that time, so the dates are all very, you know, unclear.
AM : Yes, of course, it was a long time ago.
AM : Your band is called The Painkillers now, why this name?
For a couple of reasons. I wrote a song once called Painkiller, so then we had the album called Painkiller. The story goes that one of my fans came up to me one night, after the show, she was waiting in a long line in a wheelchair, she had some serious pain and she said to me, your music is a painkiller. I thought that was the coolest thing I had ever heard. I mean I am glad it helps. I am hoping that it helps people to feel better, regardless what the suffering might be, whatever the nature of it. Sometimes it is just depression or sadness, a loss or physical, emotional pain, whatever the pain is, that is why they have invented the Blues, you know to help people lift them up from that. We were looking for a name for the band for this recent version of my band, just two years ago. We wanted to do something different with this new album, we wanted a slightly different sound, energy and attitude, something to shake things up and bring it back to life, so we thought we should name the band Painkillers, which was the most natural thing to do.
AM : So you are kind of healing a thousand people when they come to your shows, the only medicine is your music!
Yes, exactly the music makes you feel better, it is true.
Can you tell me Tommy who is with you in this photo?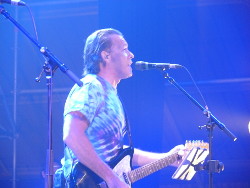 It is his birthday, my friend BB King.
AM : Yes. Why do you think I have chosen this one?
I love this picture, he is looking at what I am doing, I hope it was good.
AM : He asked you to open his summer concert tours.
Yeah. We went on a tour, it was a really good time. There were
BB King
,
Buddy Guy
,
Susan Tedeschi
. In one part of the tour there was also
John Hiatt
. It was such a great experience, we were traveling around, doing shows and once in a while I would get to play with BB King. You know when I was thirteen, fourteen years old, just finding the Blues, started up listening to rock'n'roll, I realized that the rock'n'roll I liked was the Blues, but just louder, like
Clapton
, The
Rolling Stones
,
Michael Bloomfield
, and all that sixties Blues musicians. I started digging it a lot deeper, and I found guys like BB King and all the people that inspired me. BB King was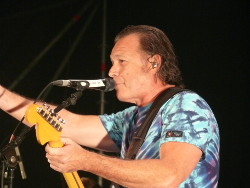 the first record I found, it was a real-deal, a huge shift in my life. I just listened to nothing but BB King, maybe three months straight. I was listening to BB King with my guitar and trying to learn how to play. So fast-forward twenty-five years and I was on stage with BB King, playing the guitar, that was unbelievable!
AM : The dream came true.
I would ever even dream about that, it was too far beyond my dreams to think of a thing like that! And then I was there with him. He was obviously the nicest man in show-business that I have ever met. I have learnt a lot from watching him.
You have released about 14 albums, the latest one is...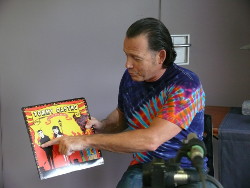 The Devil You Know.
AM : Everybody has their own devil, so what kind of devil is this one?
An old saying says, you go with the devil you know. Like in politics, there is no good choice, so sometimes you go with the one you know, because you know what you are going to get. The other possibility maybe worse. So here we go, I am going to tell you the story of The Devil You know (showing the album sleeve). There is some guy here, might be me, I don't know, and he is trying to get with this girl and she said no, I have already got a devil at home and I am going to stick with the devil I know. The guy even tried to convince her with a bottle of painkiller, but she said no thank you. So that is the story!
Where was it recorded?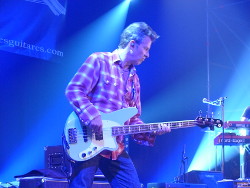 Mostly in San Francisco where I live, just outside San Francisco in Marin County. Most of it was in a town called Sausalito and some in San Rafael. Then we had a few studios around the country because, for instance, Joe Bonamassa played on the record and did his recording in LA.
Magic Dick
, The
J.Geils Band
did his recording in Boston.
The Holmes Brothers
did their recording in Washington DC and
Samantha Fish
recorded in Kansas City, Missouri. So there are all these different studios involved in the recording of my album, which is very cool. Anyway,
Tab Benoit
was on there as well, he came through town to record where I live. He was there doing some shows.
Marcia Ball
the same thing, she was touring and came to San Francisco, we are very good friends.
AM : She is a beautiful piano player.
Yes, she is great, very talented, an awesome person. I called her up and said I heard you are in town, I have got a perfect song for you to play, could you come in? She replied, yes just tell me when and where, I will be there. It is nice of her to go out of the way like that, and Tab too, who was working on the road, and made time to come by and sing and play on my song called When I Cross The Mississippi. Our producer from the bay area is
Bonnie Hayes
, an amazing woman, mostly known for her songwriting. She is a great songwriter and works with songwriters. She teaches songwriting in the universities and in music camps for kids. I was sure she would make a good producer because she spends a lot of time helping people to write their first songs and put them on CD, so she's got to be very handy in the studio. She helped us to shape the songs, to make them better. It is important when you make a record to have the right producer.
This album is also beautiful because it is a red vinyl one!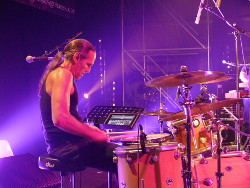 I am happy to show it to you, because I have a 16-year-old boy and he loves music, lots of good music, thank God. He is on the internet, looking for albums like
Pink Floyd
,
Led Zeppelin
,
Aerosmith
, whatever it is, he likes classic Blues Rock and he is trying to buy vinyl all the time. I thought something is going on with vinyl, so I decided to make one for my new album, it really does sound so much better, if you take the time, buy a record player and turn it up really loud!
At the moment you are on tour in Europe.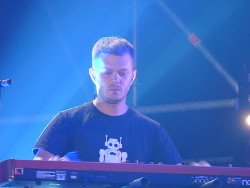 Yes.
AM : Where did you play?
We just did a show last night in my favorite venue in Europe, the
New Morning
in Paris. There is something special about that place, so much history, great musicians came through and played, some died or went on. There are soul and spirit in the walls, in the building, the energy from all that great talented people passing through. Every time we play there, we feel it, so do the people, something special is going on when we play. We also did another great venue that we love in Belgium, Verviers at
The Spirit of 66
. We were in Holland, we are just having a great time. The first time we came to Europe many years ago was France. We had a French promoter, road manager that organized tours for us named
Alain Leadfoot Rivet
, a legendary character. He is also a singer and makes records, he knows so many other great players in France and in the States, everybody is ususally a guest on his albums. He is a good friend. So he would bring us to France and this would be our home base, wherever we went, to Germany, Switzerland or Italy.
You are here today for the Grosses Guitares Festival near Lyon with your bandmates, could you please introduce them?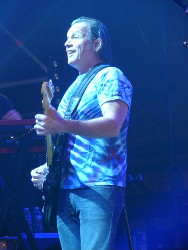 We have got the longest member of the band, Randy McDonald, bass player, who is also our road manager. Randy is very much involved in helping me to write songs and arrange the music. He is always pushing me to do a little more, he does not let me settle, he thinks I can always do things better. It is a good partnership, we have been together for many years. The next longest member is
James Pace
, very talented, high energy Keyboards player, he plays great organ, B3 organ and piano. He has got a very interesting style, you will see tonight, he brings a lot. The newest member of the band, a very good drummer is David Tucker. He is a really good fit, especially with Randy, they play very well together and that gives us the foundation for the whole band to play well together. It is very important that the drummer and the bass player get along.
AM : They are the metronomes.
Yes, but it is not just the time, it is a certain feeling, in rhythm'n'blues music, you often play behind the beat. They do a great job.
AM : Is the setlist ready for tonight?
Yes. We will play a lot of songs from the new album, and songs from our past records. The setlist is working really well, so we keep it for tonight, the same that we did last night, it was a lot of fun!
AM : Thank you very much for your time Tommy. have a great show tonight with your band.
Thank you for having me.