Interview Chris Bergson
Friday 3rd April 2015
Salaise Blues Festival

This icon indicates a video
Chris, welcome on rock-interviews.com. Let's go back in time, where were you born?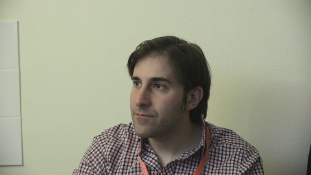 I was born in New York city.
AM : As a child and teenager what or who gives you the opportunity to listen to music?
My parents. They exposed me to a lot of great music, a lot of artists and I also listened to records. They were taking me to hear living Blues and Jazz masters, when they would come through town. So I heard a lot of music live when I was a kid, and it allowed me wanting to be a musician.
When and why did you start playing the guitar?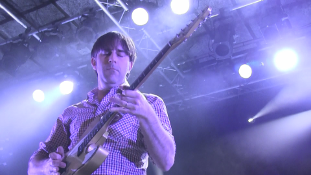 I was seven years old when I started playing the guitar. I wanted an instrument I can sing with and play at the same time. I was into The Beatles and I wanted to play their music and also Led Zeppelin, all that kind of stuff. I started off by classical guitar, I wasn't really into it, and I am actually glad that my parents did make me stick with it. I studied a little bit and it was good I could read music. Then I wanted to study Rock and Blues, and when I was older, Jazz. I found a teacher a little bit later who was able to show me some of that music.
Who is on this photo with you?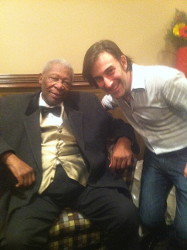 That is the one and only, the great
BB King
. I was very honored to open for him a few years back at his club in NYC. He was 89 years old at the time, it was December 2012. He was amazing. He still had that tone and sound. It was such an honor to open for him and hear him live again.
You have performed and shared the stage with a lot of musicians.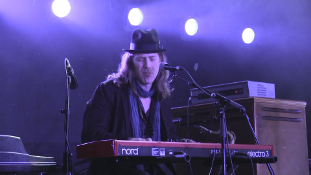 Yes. I feel really lucky to play with two of my musical heroes, Levon Helm the drummer and singer from The Band. We recorded an album at his studio in Woodstock. He heard me, and as he needed a substitute guitar player, at that time for his band, he called me to play with him. It was an incredible experience playing in a rhythm section with him, such an amazing groove on the drums. Levon is a very sweet man. The other artist who had a big influence on me is Hubert Sumlin, Howlin'Wolf's guitarist. I had to do some concerts with him, the last couple of years before he passed away. He is actually been inducted into the New York Blues Hall of Fame. Levon and The Band influenced my songwriting. Their music helps me write my own songs, I like writing different kind of songs. Hubert playing is just fabulous, he has his own style and sound, it was a real treat getting to know him.
Why do you think you are called the street poet with a Blues soul?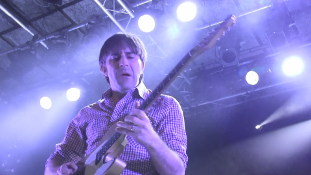 Well I try to write about what I know, which for me is living in New York. A lot of my songs were being inspired by different characters of my neighborhood, I lived in Brooklyn for a while, and I saw them around. Street poet with a Blues soul is a nice description, you know I try to write about which is real for me, life, playing music and living in New York.
Your latest album is called...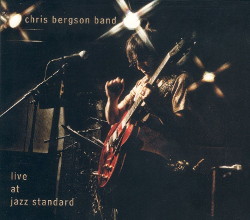 Live at Jazz Standard which is one of our favorite club in New York. A club we have been playing at for over ten years. As we felt very much at home it was a great place to do a live album there.
AM : When was it recorded?
We recorded it over two nights in June 2013.
AM : With whom?
Craig Dreyer
on saxophone and organ,
Matt Clohesy
on bass,
Tony Leone
on drums, and my good friend
Ellis Hooks
who was a guest vocalist. He is an incredible soul singer. Then there is a horn section with
Freddie Hendrix
on trumpet,
David Luther
on tenor saxophone,
Ian Hendrickson-Smith
on baritone sax, and also my long-term musical buddy,
Jay Collins
who is a great horns arranger.
AM : How many tracks on this album?
Fifteen. We did it in two nights and we picked what we thought were the best performances, including new original songs that had never been recorded before. There are also live versions of some older songs. It was really fun recording live, a nice and very natural way to do it. It's quite different than making a studio album. I mean, we play live all the time, so we weren't even much conscious of the fact we were recording, so it was a very relax way to do it.
Where did you get the sources of inspiration for writing these songs?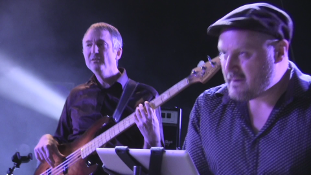 I was inspired by the people I met or observed in New York, when I was in Brooklyn and moved back into Manhattan almost five years ago. You know I carry a notebook with me and I keep my eyes and ears open. There are a lot of crazy characters, I observe strange things that couldn't be fiction...
AM : What about the track called Chloe's song?
Yes, I wrote that song for my daughter, soon after she was born in 2008, now she is six and a half. It is a very quiet and delicate kind of song, so it doesn't work to perfom it everywhere. It was good to have a nice version of that song on acoustic guitar. I am kind of shy about performing it, and it's also very different from a lot of the songs we do. I was inspired by
Nick Drake
,
The Beatles White album
, when I wrote it. Sometimes my daughter comes to our shows and I embarrass her, I play it for her. Someday she will be a teenager and will say, no daddy no!.
What were the worst five minutes of your life as a musician?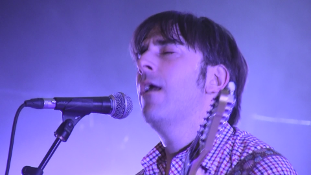 It's a good question. Honestly, the worst thing I had to go through was during a trip. The great French musicians, in addition to Craig, I am performing with tonight,
Pat Machenaud
on drums,
Philippe Billoin
on keyboards and
Philippe Dandrimont
on bass, I met them performing in a festival in Chaumont in November 2013. I had a wonderful time playing with them, at the festival in France, but then unfortunately the day I was supposed to fly back to New York, I got a horrible food poisoning. I've never been so sick in my whole life. I had gigs back in New York the night after I got back and I couldn't postpone my flight. So I was vomiting everywhere, it was bad and I had to get on the plane, so it was the worst not five minutes but hours and hours! When I got home my wife said, you look like you've been in the wars!
What was the most fantastic, amazing, moment?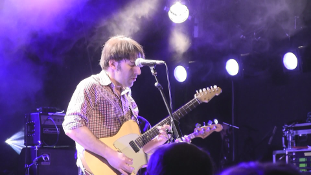 Playing with great musicians is a real blessing and a highlight for me.
What do you like to do when you are not on tour?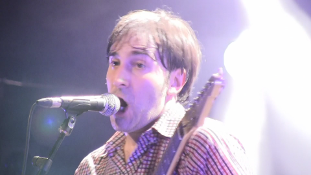 I like spending time with my family. I am also a big fan of modern art. I love to go to museums. Where I live in New York I am withing walking distance from the MOMA and the Metropolitan Museum of Art. When I have a day free, I often go there with them as my daughter is into drawing. In August I am coming back to France for a longer time, I am looking for to go to the Musée d'Orsay. I also like to go to concerts, I am going to see
Stevie Wonder
in Brooklyn, he is going to perform the whole album of Songs in the key of life. I am looking forward to that.
Do you have new projects in mind for the future?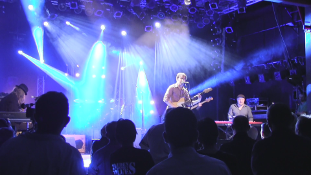 Yes, I am working on some new songs to record with my band. I am also going to do an album with the singer Ellis Hooks, he sounds like a mixture of
Wilson Pickett
,
Otis Redding
,
Sam Cooke
...all rolled in a one with a kind of tiny rock like
Robert Plant
. We have a great groove together. He comes over once a week and we write. We are working on doing an album together in the next year. I also want to record with the French musicians and maybe do a live record somewhere in France. So three albums over the next two or three years, as different projects.
Chris Bergson introducing Craig Dreyer.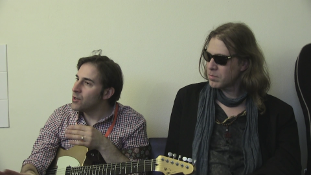 Thank you very much for your time. Have a great show tonight.