Interview Michael Bradley - Damian O'Neill
Wednesday 13th May 2015
Les Abattoirs - Bourgoin-Jallieu

This icon indicates a video

Mickey and Damian, we are happy to welcome you on rock-interviews.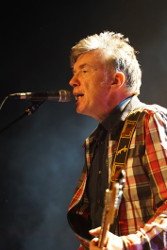 Merci beaucoup.
AM : Where are you from?
Damian : Derry, Northern Ireland.
Mickey : Irlande du Nord.
AM : Do you know the irish name for Derry?
Mickey : Doire Colmcille.
AM : What does it mean?
Mickey : It means the oak grove founded by Colmcille. This Saint brought christianity to Europe. So if he hadn't founded a monastery in Derry you would all be pagans!
Mickey in 2013 you gave a tour of Derry called My City.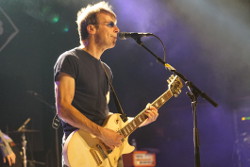 That's right. Did you see that?
AM : Yes. It was a lovely one and I wish I could come to visit your city.
Mickey : You should come to Derry, it used to be OK but now it is really good. No shooting anymore and we have new bridges and sunshine all year long!
Damian : (laughing). Yes, a lot of sunshine!
How was growing up in Derry?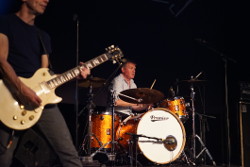 Damian : When we were younger, teenagers, it wasn't great because there was a lot of trouble. Army on the streets, lots of shootings, bombings, and it was especially bad for teenagers because there was nothing to do.
Mickey : But I was always very happy.
Damian : He was actually a happy kid.
Mickey : As long as there was food on the table.
AM : Derry was a divided city with protestants and catholics.
Damian : Yes, we lived in the catholic side.
Mickey : It's good that we lived in the catholic side, because we are catholics.
Damian : That's one of the reasons because we formed the band because there was nothing to do, no clubs, we loved music so we thought why not playing it.
Mickey : It's just like The Specials, this town, is coming like a ghost town, it was bad like that.
What were your major influences?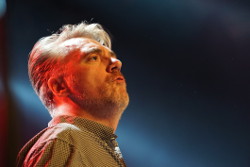 Damian : Musically?
AM : Yes.
Damian and Mickey : We love the
Rolling Stones
,
Van Morrison
,
Ramones
,
New York Dolls
,
MC5
,
Iggy and the Stooges
,
The LP Nuggets
,
Television
, lots of bands. When we first started we liked Rhythm'n'Blues,
Eddie and the Hot Rods
,
Dr Feelgood
,
Creedance Clearwater Revival
...
You formed your band the Undertones in 1975, why did you choose this name?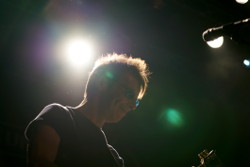 Mickey : We didn't know what to call ourselves and we had a couple of other names usually borrowed from other bands. At one stage
Feargal
called us the Hot Rods and another time
The Little Feat
. Billy found the word the undertones in a history school book. We liked it because it was very 1960's, it was " the " something, and also because it rhymes with Ramones, " ones ", the Undertones, the Ramones.
What is this?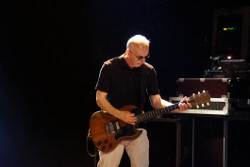 Mickey : Teenage Kicks, backwards.
Damian : High test.
Mickey : Smarter than the average bear.
Damian : Neet ega skcik.
Mickey : Tonight we play it backwards!
Damian : My brother John, the guitar player, has got a pedal that can go backwards so maybe he can do it like this.
AM : Was it a big hit in 78?
Mickey and Damian : Not really. People liked it, but it reached number 31 in the Singles chart, so it wasn't a big hit.
Who is this guy?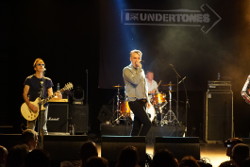 Mickey :
John Peel
, the best DJ on radio in England. He loved Teenage Kicks, that was his favourite record, which is good because he is our favourite DJ.
Damian : He became our favourite DJ after he liked it! (smiling). We did like him anyway.
Mickey : He was the only one in 1977-78, to play punk rock, reggae in his show. He was a very nice and modest man. He knew that his role was just to play records, he didn't have any great ego.
You have released 4 albums from 1979 to 2003.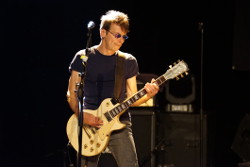 Mickey : We did 6 albums in total. 4 with Feargal and then 2 with Paul.
AM : You have reformed The Undertones in 1999 with the singer Paul McLoone who replaced Feargal Sharkey, known for his soprano and unique voice.
Mickey : Like Larry the lamb.
AM : Feargal didn't want to rejoin the band, why?
Mickey : We both knew that Feargal wouldn't want it but also I knew that John wouldn't want to be in the band with Feargal, so it was by mutual arrangement.
AM : How did the fans welcome Paul at the beginning?
Mickey : They were very happy.
Damian : We were a bit apprehensive at the first concert. Would he be as good or ridiculous?
Mickey : We did the show in Derry to open a new art center in the city. We were only prepared to do one show maybe two. We were ready not to do it anymore if it hadn't been good. You know when you are in a band, when you go off stage, you know if it was good. Ah listen, (a police siren outside) now there is the police ready to arrest us for telling lies! However, more seriously it was really good, we knew that it would work with Paul.
John O'Neill is the major songwriter of the band.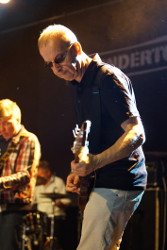 Mickey : Yes, his brother (showing Damian).
AM : Damian and Mickey you wrote My Perfect Cousin.
Mickey : How good are we!
Damian : Our biggest hit.
Mickey : Yes the band biggest hit. (laughing) No one recognise it.
AM : Your songs speak about adolescence, heartbreak and girls, and troubles in Ireland.
Mickey : Yes, you covered all from A to B.
Let's talk about your lattest album released in 2007 called Dig Yourself Deep.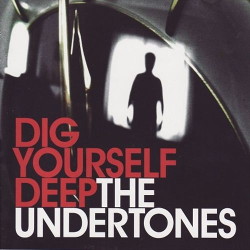 Mickey : 8 years old.
Damian : Long time!
Mickey : We really should do another one. It was recorded in Derry. All the songs are very short, under three minutes. It was a very happy experience.
Damian : We did one before called Get What You Need. It took us a long time to do it, but this one was recorded quickly, so it was more enjoyable.
Mickey : Sometimes, in a band, you can get very worried about making a record, but we had the songs and just went to record it, do our best and that's it. bands make records all the time. So that's the approach we had, we won't worried about what people thought. It got very good reviews, we like it ourselves and the fans too. That's what is important.
To know the Undertones by heart, what did your fans have to buy? What did they have to watch about the band?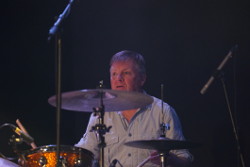 We made two documentaries. The first one was made by a friend of ours Vinny Cunningham in 2001, with John Peel. The second one was in 2012.
AM : Called Here Comes the Summer.
Damian : That was also good because it talked more about the songs as well as the troubles in Northern Ireland. So there are both different documentaries and I like them both.
Mickey : Maybe we should do another one, a third one. A film series like Batman, begins, returns. I haven't watch the first one for a long time, neither the second one, we look so young in them.
AM : You are still young!
What is the worst anectote you can tell us?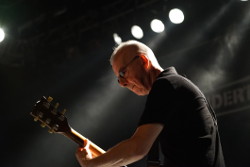 Mickey : I have one. It was in 1980. We were taking to a really nice restaurant in London by
Seymour Stein
, an american record label boss who signed us. When we left the restaurant, he left a tip, cash for the waiter and I took it!
Damian : He stole it!
Mickey : I have no excuse, it was a terrible thing to do. It is not too bad, I haven't killed a child or started a war or anything really bad but it is a pretty low thing to do. Damian, I think it's time for you.
Damian : No I was always good!
AM : What is the best one?
Damian : Be in America for the first time and play with the Clash. It didn't get any better.
Mickey : It was 1979.
Damian : We were all very young.
Mickey :
The Clash
were playing the songs from London Calling, Clampdown, Jimmy Jazz. I remember watching The Clash in Chicago and I fell asleep. I think I am the only person in the world who has fallen asleep watching The Clash! But I was very tired.
What do you think of Sex and Drugs and Rock'n'roll life style?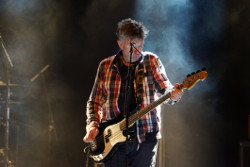 Damian : We don't know, we have never experienced it.
Mickey : I think it's a great phrase and
Ian Dury
didn't get enough credit for it. He invented it, sex and drug and rock'n'roll. It's a great record, and every time you see it written down you should have in brackets his name. A lot of people know the phrase but I am sure they don't know that it's Ian's. He deserves it.
Damian : We were definitely not a sex, drugs and rock'n'roll band.
Mickey : We were sweets, crisps and watching TV. That was us. (Mickey singing) sweets and crisps and watch TV, is all my brain and body need!
From where are your best fans?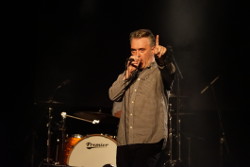 Mickey : France.
Damian : Mais bien sûr! No, well, Ireland. England.
Mickey : Spain and France!
AM : And Japan.
Mickey : Yes.
Damian : We went once to Japan.
Mickey : We did two shows.
Damian : That was two years ago. Before we didn't go, because they (showing Mickey) didn't want to tour strange countries.
Mickey : Foreign food!
How was your gig yesterday in Paris?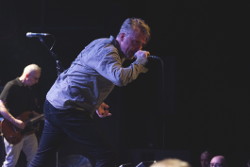 Mickey : Very good.
Damian : Formidable.
Mickey : Surprisingly good.
Damian : Lots of smiling faces.
Mickey : What was good about it, is at the start, people were very happy and towards the end of the show they get really really happy. But tonight it will be better. (smiling).
AM : Is the setlist ready for tonight?
Damian : Yes, same as last night. Mickey does it.
Can you introduce the other members of the band?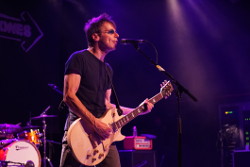 Here's Billy Doherty, the drummer.
Billy : Je suis le batteur des Undertones.
Mickey : He started the band with John, Damian's brother. I joined them after that, then Feargal, then Damian.
Damian : Yes I replaced Vincent, my older brother.
Mickey : And Paul McLoone.
AM : Thank you very much for your time, have a great show tonight.
Mickey : You are very welcome.
Billy : We look forward to it.
Mickey : Vive le rock!