Interview Vinnie MOORE / UFO
Tuesday 3rd November 2015
Ninkasi KAO - Lyon
We are happy to welcome you on rock-interviews. Vinnie, did you come to Lyon by this means of transportation today?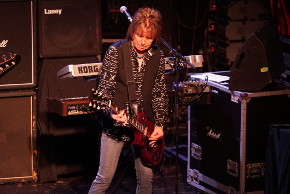 I did actually. I was just home sleeping in my bed and a spaceship transported me here. I was trying to use the
Star Trek transporter
but it doesn't work yet, so I came on a spaceship instead!
AM : From which galaxy or planet are you from?
Vinnie : Just from America on the East Coast so it didn't take too long, only 30 seconds.
AM : You were born in the USA.
Vinnie : Yes.
---
Let's speak about Vinnie Moore as a musician and a songwriter.
Vinnie : Hello, please vote for me.
AM : When did you begin to play the guitar and what was your first one?
Vinnie : I started when I was 13 years old and my first guitar was a
Teisco
, which was from a cheap department store in America called
Penney's
. It came with a little transistor amplifier, it all started from there.
AM : What is your favourite guitar brand now?
Vinnie : I play
Dean Guitars
. I've been endorsing them for about 6 or 7 years. They made one for me called the Vinman 2000, so I am playing my own signature model which is a very cool thing.
---
If I show you this picture what can you say about it?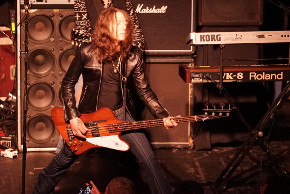 Vinnie : It is a picture of a Pepsi bottle. It reminds me of a commercial I did back in 1985. My first professional gig was doing the music for this TV commercial.
---
When did you join UFO?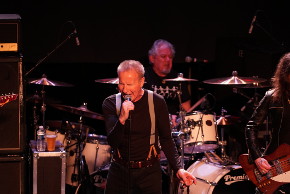 I joined UFO 12 years ago, so it was in 2003. Apparently I've been the longest running guitar player in the band which means that I am also the craziest one to be able to stay with these crazy people for so long.
AM : What is the name of the first album you recorded with them?
Vinnie : We did the You Are Here record first which was
Pete Way
on bass, of course
Phil Mogg
on vocals,
Jason Bonham
on drums and
Paul Raymond
on keyboards and guitar.
AM : You Are Here was released in 2004.
Vinnie : Yeah.
AM : Are you still in touch with Pete and Jason?
Vinnie : I saw Jason a couple of years ago, I wanted to see his
Led Zeppelin experience
in Philadelphia, I spoke to him, it was a great concert. I haven't seen Pete for maybe 4 years now so I hope to see him again soon.
---
What is the name of the latest UFO's album?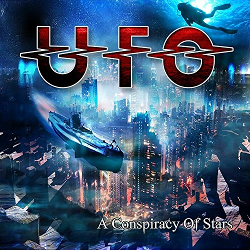 It is called A Conspiracy Of Stars. If the next question is what does it mean? I don't know. It is Phil's title.
AM : It is the 21st studio album for UFO. Let's have a look at it and dissect and analyze it.
Vinnie : Yes. It's a 3-flap design, opening like this... (laughing)
AM : There are 11 tracks. Who wrote the songs for this album?
I wrote Run Boy Run, Ballad Of The Left Hand Gun, Sugar Cane, Devils In The Detail, Precious Cargo, Messiah Of Love, Rolling Rolling. Rob De Luca wrote One And Only. Paul Raymond wrote The Real Deal. We all contribute musical ideas to Phil. He listens to them and decides what inspires him the most and what songs he wants to end up on the record. That's the way we do it. Usually we have a few more that don't make the record, just a couple of extra, and we choose the strongest of maybe 15 or 17.
---
Vinnie you have a recording studio. What are the advantages and drawbacks to own a studio at Home?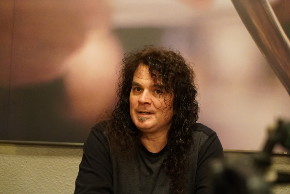 I've always dreamed of having a recording studio where I could do my records ever since I started recording in the 80's. That's something I always wanted and finally the technology get good enough to where you could actually do that. I think it is amazing because you could be on your own time schedule, record and get creative whenever you want. It is right there, so there is no rush, you can take your time, you don't have to be nervous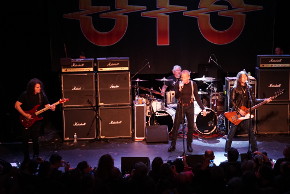 about things like paying for a studio and the most important thing for me is that you could be alone, which is the way I like to work. Some people like to work with others, but I can't. I am real recluse. I need not to be distracted by anything. When nobody is home, I am in my studio, one hundred percent focused, so that's the advantage. The disadvantage, is that sometimes I am too much a perfectionist and I end up taking too long to record instead of getting through it quickly. So it is both a blessing and a curse, but mostly a blessing.
---
When you don't play with UFO, you are a solo artist. How many albums have you released?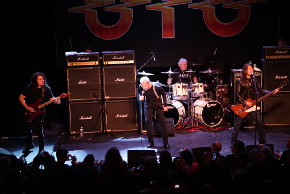 I've just come out with number 8 called Aerial Visions. It came out just a week or two ago. I have good feed back and response which is great for an artist. You are happy that people are liking your work and what you do. I am happy until a person says it's a piece of crap and it is not good. (laughing) No, I am joking!
---
Apart from UFO who are the other musicians you have collaborated with?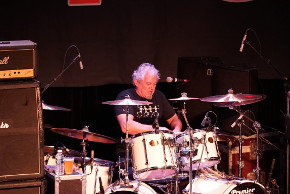 About two years ago I did a record with a new band called
Red Zone Rider
. There was of course me on guitar,
Kelly Keeling
on vocals and bass, and
Scot Coogan
on drums. I am very proud of this record. Who else I've worked with?
AM : Alice Cooper?
I played two songs on his Hey Stoopid album but I didn't write the songs. Then I joined them for the tour in America. It was a lot of fun. Because I grew up listening to him, it was amazing. I never thought when I was a kid that I could be playing in Alice Cooper band. It is the same with UFO. I was a fan of the band when I was growing up, playing guitar along their records. I've never dreamed in a million years that I would be in this band someday, but it happened.
AM : Do you sometimes play solo shows?
I did a tour in America with Uli John Roth. We did 15-20 shows. I will do more shows in 2016.
---
Let's talk about Vinnie Moore as a guitar teacher.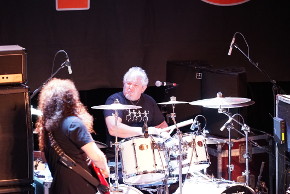 Vinnie : Vote for me!
AM : As a guitar teacher what are your specific means of teaching guitar?
The extent of my teaching has been my two Instructional videos which I did in the late 80's and then some Guitar Clinics. But I am not a great teacher, I've never taught one-on-one with anybody. I will probably lose my mind trying to do that, I have no patience. There are some people who are better teachers than others. I think I wouldn't be the best. I prefer talking to a bunch of people about guitar. I can pass on some knowledge and experiences. I could be a good teacher on that way.
AM : Could you explain what are guitar clinics?
I play with some backing tracks and then I take questions that lead to wherever. I can tell you here's how I did this or this is the way I am thinking about it. I can give you my own personal opinion about how I do things.
AM : You did guitar clinics in different countries.
Yes, all over the world. From Korea to India to all over America, Canada, Mexico, Brazil, Australia, New Zeland and Europe.
---
Tonight you are going to play with UFO at the Ninkasi Kao in Lyon, could you please introduce your bandmates?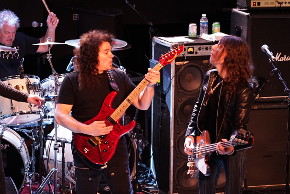 Yes. On bass we have
Rob De Luca
.
Andy Parker
, the original UFO drummer. Paul Raymond on keyboards and rhythm guitar. Me on guitar and I don't know who the singer is...Let's see (looking at the album) some guy named Phil Mogg, that's his name!
AM : Thank you very much for your time Vinnie, have a great show.
Vinnie : Thank you very much. I am looking forward to the crowd here. It is going to be a lot of fun.
---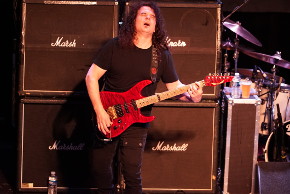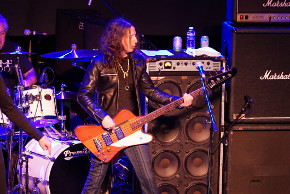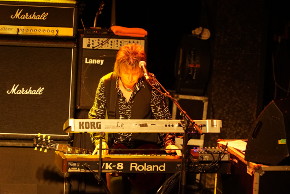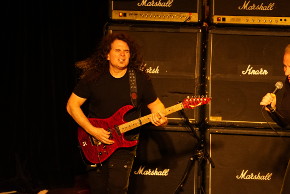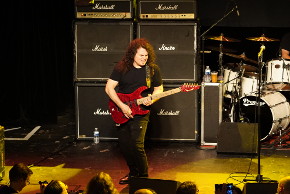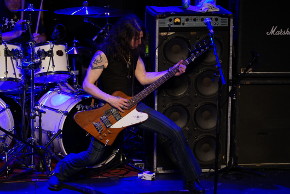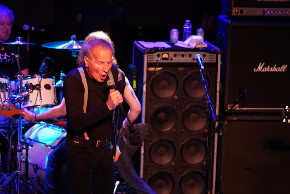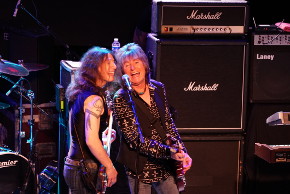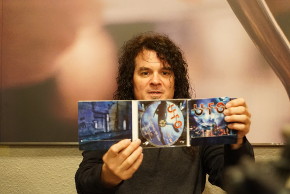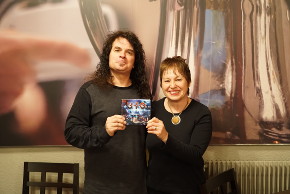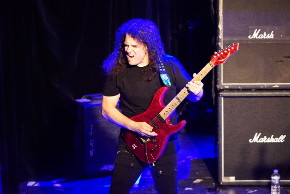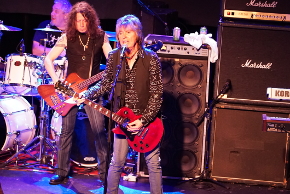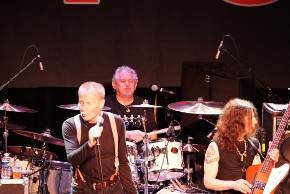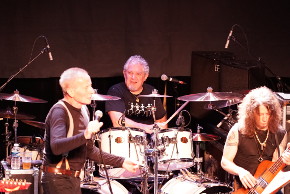 ---