French Version
Interview Deborah BONHAM
Saturday 4th October 2014
Espace Culturel du Brionnais - Chauffailles

This icon indicates a video
We are pleased to welcome you on rock-interviews.com Deborah.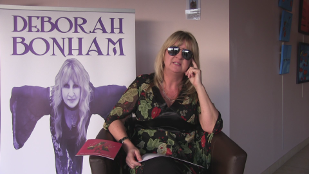 Je suis enchantée.
AM : You were born in the UK, and during your childhood your ears had the opportunity to listen to a lot of music, why?
My brother was in
Led Zeppelin
. I was six when he joined the band, so I grew up in a house full of amazing music. My parents too, played a lot of big bands like
Tommy Dorsey
,
Glenn Miller
, all bands with drummers like
Buddy Rich
,
Gene Krupa
, and that's where my brother got it from. Then I have listened to
Hendrix
,
Motown
,
Crosby, Stills & Nash
...and so on.
Deborah you wear a nice necklace.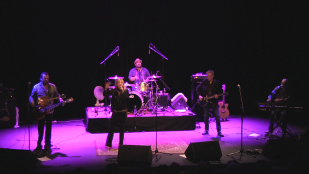 Yes, the three circles. It was John's symbol when they made the Led Zeppelin IV album. I have never taken it off, I have been wearing it for years and I have to clean it!
You became an English Rock and Blues vocalist.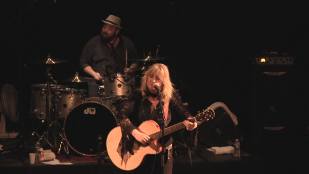 Yes, I did.
AM : What do you think of being a woman in the music business?
It is not easy, it is very difficult. You are expected to work the sex-appeal thing and that was never me. I really do not like all of that. I just want to sing the right songs. I don't really wear very short skirts and show my body, not now anyway, definitely not now! Even back then, I would not have done it. So it became very hard and difficult, because the record companies expected that and I would not do it. You have to do what is in your heart, what you feel is right. To quote Janis Joplin's phrase you have to be true to yourself. If you can't do that, you will never convince anyone, any audience. So I really decided that I was going to do it the way I wanted to do it. It has been a very tough road and of course now because I am older, it is hard for older women in music, but it is great and I feel liberated now. I just feel that I do what I do and if people like it, I am absolutely thrilled. I can dress how I want to, it is seventies clothes, but it is what I like.
Are there some advantages?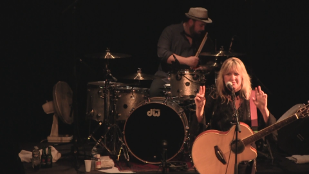 I am not sure. The Rock and Blues music is very male. Years ago, I did a tour in America and we were selling out well, it was fantastic. I was told by a record company that there was no place for women in rock music. I said I think
Janis Joplin
did pretty well,
Maggie Bell
,
Aretha Franklin
,
Dusty Springfield
,
Elkie Brooks
, amazing women in music. So when I was told, no women in Rock, I thought "whatever"!
Could you please tell me who is on this photo with you?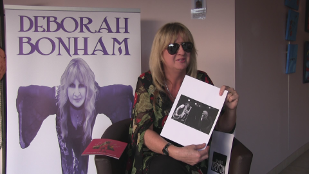 He is the love of my life,
Paul Rodgers
. That's THE voice. We became very close friends and it was a joy and an honour to sing with him. That is what dreams are made of. If Paul thinks I am good enough to sing with him then I have made it whether I sell albums or not, it does not matter. I sang with Paul Rodgers and I am very happy. I grew up listening to him, I use quite a lot of his phrasing in my singing, he is an amazing man. Now I am doing a concert with him 3rd of November in
Royal Albert Hall
in London, it takes my breath away. He is so good. I am very excited about this show.
You have released an album called Spirit, why this title?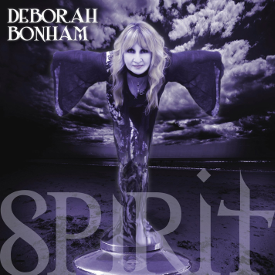 Yes. Mainly because the title track is really me, acknowledging I've got my brother spirit in me. You know John didn't want me to be in the Rock music business. When I was a young girl, I remember telling him, I think that's what I want to do. Now looking back, I know why he didn't agree with me. It's hard and tough, especially in the late seventies, a lot of these rock bands like Led Zeppelin, had a lot of women hanging around, and John saw a side of the business that he didn't think was any place for his kid sister. I am fourteen years younger than John. He thought I had to go to school, and pass my exams. He really encouraged me to do it. I am so pleased I did, because that's where I learnt French and now we are doing so well in France, I am able to speak a bit of French. So that's where the title came from because I was always going to be a singer, it's in my blood and it is that spirit. I was also going through a very hard time when we recorded the album, my mother just passed away. It took me a lot of spirit to get through it, so it is really about that as well.
Where was it recorded?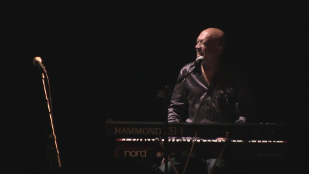 Where I live, for the drums. The drummer,
Marco Giovino
, came from Nashville. He played with
Robert Plant
and The
Band of Joy
. I took my mum not long before she died to see Robert play in Birmingham. Marco got my previous album and said to me that he was a bit of a fan, he liked my album Duchess, which I thought was lovely. He sent me an email and asked if he could meet me afterwards. He asked me if I was making another album. I said yes, I've written the songs but I don't have a drummer. I crossed my fingers because I've seen him play and he was so good. When he said to me "I will do it", I was very happy. So he flew from the USA, we recorded the drums, then I did half the album over here, and then I flew to Nashville to his studio and I finished and mixed it there as well. This album is released on
Spectra records
. I am very pleased with them.
AM : How many tracks on Spirit?
There are 12. And I put two French ones. They are called Guide-moi (Take me Down) et M'envoler (Fly).
Who translated these songs in French for you?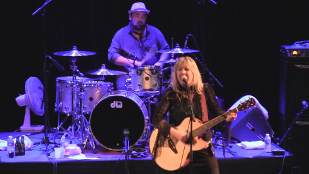 My friend
Nathalie
. She is the sister-in-law of my agent, Laurent Milliet. I asked her to do it because my translation was very literal. She made it into poetry for me in French. It was beautiful. She enabled me to do that. I like to sing them in shows, I always do Take Me Down, Guide moi.
AM : Nathalie is a good friend of mine too and she is a very good translator. These songs are beautiful and we really like your album.
Thank you. I am very pleased with it. I went back to my roots, so it is not so rock. I wanted to go back to mandolins and acoustic guitars, a sort of country-esque but I wanted to keep the Rock'n'Blues as well, so I tried to do a marriage of the three aspects.
What do you like to do when you are not on tour?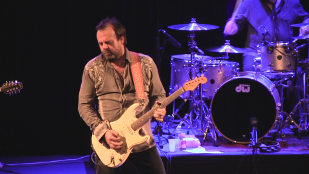 I ride my horses, I rescue horses. I spend all my time with my horses and I have got two rescue dogs as well. I live by the sea, I walk my dogs. I go to the pubs, as we all do in England.
Tonight you are still in France for another show, could you please introduce your musicians?
Yes. Peter Bullick is on guitar, Ian 'E' Rowley on bass Gerard 'G' Louis on keyboards. The three of them have been Paul Rodgers backing band. They played the last three Paul Rogders UK concerts. At a party that we went too they played for Robert, my nephew
Jason Bonham
was on drums. That was another big moment for me doing a duet with Robert. This time we have a new drummer joining us called
Frank Benbini
, he is from the
Fun Lovin'Criminals
. He has also another band called
Radio Riddler
, that has just done a Reggae album of Prince's album Purple Rain. He asked me to guest on it so it is how we got together. It is in the Reggae chart in the UK so he is very pleased, so am I because it is a fantastic album called Purple Reggae. We had our first show in Belgium with Frank. He is a big fan of my brother, he caries John's feel through his drumming so it's been great.
AM : Thank you very much for your time Deborah.
Merci beaucoup.
AM : Bon concert pour ce soir !
I am looking forward to it, thank you very much.